Dave Grohl: "The Biggest Pop Star In The World" Is A Guest On The New Foo Fighters Album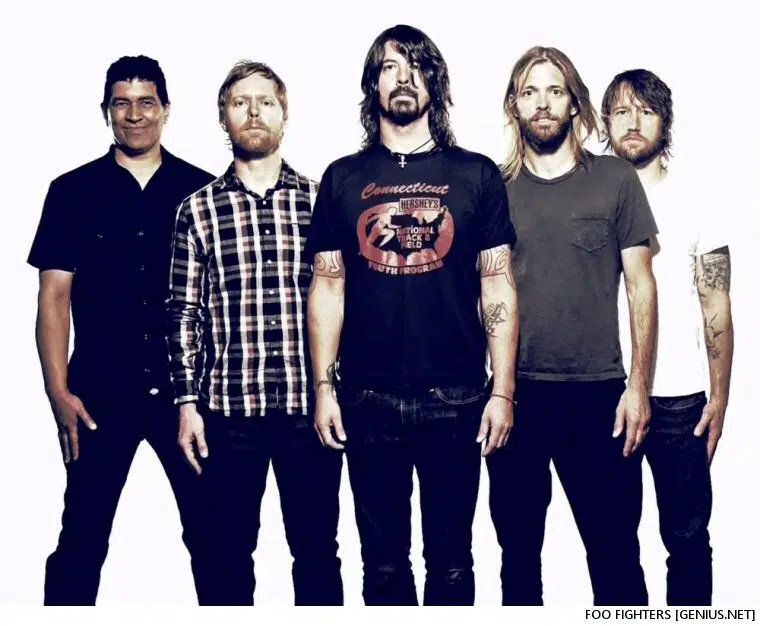 Scribes over at The Pulse Of Radio say that while he was talking to BBC hacks about the forthcoming Foo Fighters album Concrete And Gold a while ago, Foos frontguy Dave Grohl caused quite of a bit of speculation when he said that the new disc will feature "a bunch of guests", including some which "will really surprise you." (nothing surprises me these days)  When he was queried further, he said, "There's one who is probably the biggest pop star in the world and — I'm not kidding — sings backup on one of the heaviest songs on the record and we're not telling anybody who it is."
The smart money seemed to be on Adele; she has a close association with Greg Kurstin, who's produced her records.  Not only that:  he just happened to be the knob-twiddler for Concrete And Gold.  Others pointed to Taylor Swift.  However, if you did bet the farm on either of them, you've lost the farm:  Grohl has since said that neither of them will be on the album.
He also talked about things sonic:  "Without telling anybody, we've been in the studio for the last six months and we made the biggest-sounding Foo Fighters record we've ever made.   Honestly, I think it's going to take a lot of people by surprise.  Every band says it's the best record they've ever made, but wait till you hear it.  It's definitely the hugest thing we've ever done."
Concrete And Gold is scheduled for release Friday September 15; the first single, Run, has been out for some time.  The band will be supporting the new album with a tour kicking off Saturday October 07 with an all-day affair at Cal Jam 17, featuring the Foos, Queens Of The Stone Age, Cage The Elephant, Liam Gallagher, Royal Blood, The Struts, The Kills and many others.   The rest of the tour will start Thursday October 12 in Washington DC and will run through December.
Oh, and also, Sir Paul McCartney plays drums on the new Foos album.
**UPDATE Friday August 04 557am**
---
Love, Dr. Scott James

Subscribe to Scott's Now posts via RSS

Report A Typo