Annie Lennox: Headed For Greatness, If She Could Just Break Into The Music Business Somehow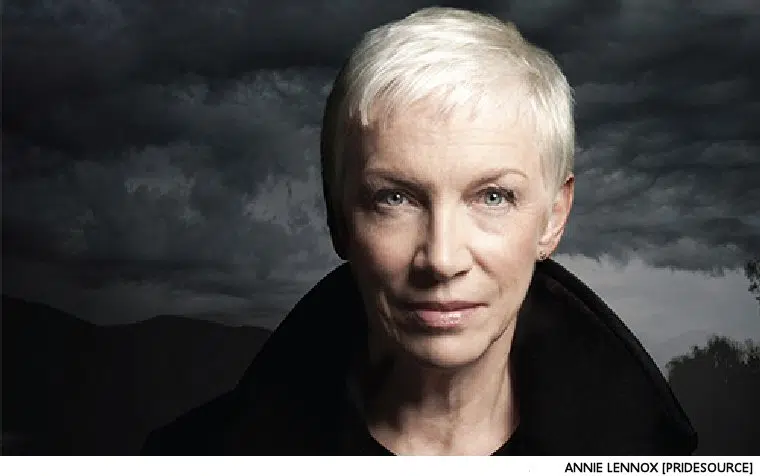 So.  This Annie Lennox person.  So far, despite all of her hard work, she's only sold a measly 75 million records worldwide, which is kind of a shame, really.  Embarrassing, even.  We can easily imagine Annie slumped in a threadbare chair night after night, weeping softly into her glass of three dollar wine, wondering where she went wrong, and — oh.  But wait!  The clouds have parted!   According to a post on her Facebook page, Annie Lennox is finally about to emerge from her wretched obscurity and get the worldwide attention she so richly deserves.
Kylie, a new music coordinator at an unidentified Los Angeles radio station who has the enviable task of finding "artists who [they] think have potential" and, hopefully, "get[ting] them in rotation on our station", stumbled over some of Annie's music "on line" [sic] the other day, and liked it.  Hearing potential aplenty, Kylie fired off a polite email to Annie, asking about the possibility of receiving "the MP3 for your latest single," which would then be passed along to the program director for (fingers crossed) airplay consideration.
On top of that, Kylie mentioned an artist development firm which has the expertise to get her music onto 150 radio stations worldwide; mentioning Kylie's name to them would ostensibly put her on the fast track to success, as long as they liked what they heard.
In with a chance?  You bet, Annie.  You're going places.  We can feel it.  One might even say that this is the stuff of which sweet dreams are made.
Tune in next week for another exciting edition of Stars Of Tomorrow.  We'll introduce you to four talented lads out of Liverpool on whom we might place a bet or two.
---
Love, Dr. Scott James

Subscribe to Scott's Now posts via RSS

Report A Typo