Major League Baseball's Newest Hall Of Famer: Homer Simpson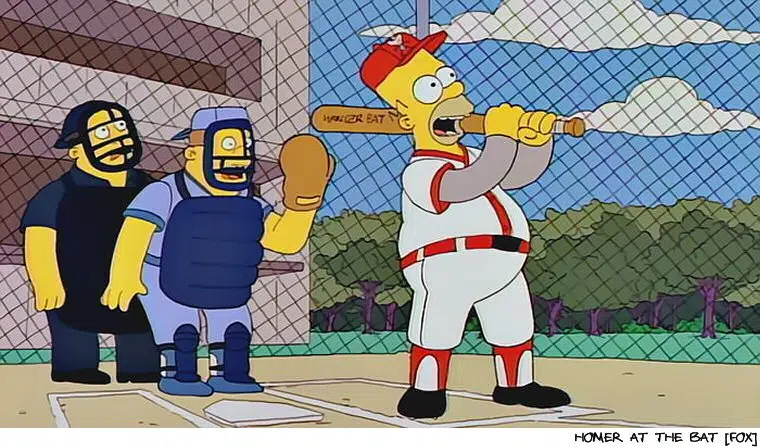 25 years ago, Homer Simpson led the Springfield nuclear power plant softball team to an historic championship — and now, he's finally going to get some long-deserved recognition:  he's going to be inducted into the Major League Baseball Hall Of Fame, taking his place alongside legends like Cy Young, Babe Ruth, Hank Aaron and Jackie Robinson.
Before your brain explodes out of your baseball purist cranial cavity, though, please note that this is merely an honorary induction.  The only players who will really, for sure, legitimately get into the Hall this year are Tim Raines, Pudge Rodriguez and Jeff Bagwell.  Because actual humans who actually play baseball.  The Simpsons will get a nod starting tomorrow, in the form of an exhibit which commemorates S03E17 — Homer At The Bat — which showrunner Al Jean puts in his top five.  Goodies on display will include an original VHS copy of the episode, and an autographed copy of the script.
If you're planning to trundle down to Cooperstown for the ceremony and official opening, you might want to be there by 930am for the roundtable discussion;  Wade Boggs and Ozzie Smith, who appeared in the original episode, will be on hand.  After the chat, they'll be out on the diamond with other HOFers for the annual Hall Of Fame Classic.
There's no word on whether Hank Azaria will be appearing as the entire opposing team.
---
Love, Dr. Scott James

Subscribe to Scott's Contest posts via RSS

Report A Typo