The Who And Guns N' Roses To Tour Together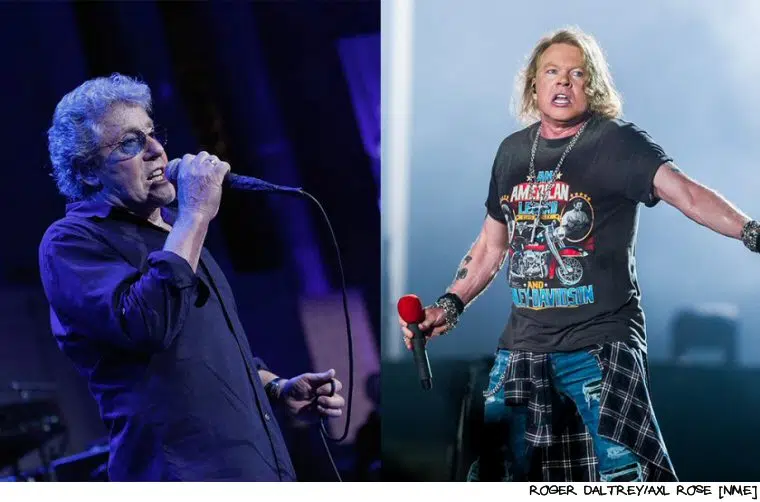 Can you say "possible shenanigans"?  Guns N' Roses and The Who have announced that they'll be doing a joint headlining tour this fall.
The two rock institutions will share headlining duties Saturday September 23 at Rio De Janeiro's Rock In Rio festival, before scampering over to Argentina for a show at Estadio Único De La Plata in Buenos Aires — after which they'll be off to Brazil, Peru and Chile, according to Blabbermouth, although apparently those gigs haven't been announced officially yet.
The other day, I related how Roger Daltrey had said that the band's current tour might just be their last:  "We seriously don't know if we'll ever play again after this tour. People at our age have been popping their clogs [over the last year] so let's just get real here, where we are in our lives.  We're doing remarkably well for where we are but we just don't know.  If we get through this year, we're gonna need some time off.  We'll re-think it after that."
Meanwhile, the Guns N' Roses Hut reports that they've picked up some big support for their upcoming UK and Ireland gigs:  Royal Blood, Mark Lanegan and Otherkin will soften up the audience at Dublin's Slane Castle before they head to London Stadium with The Kills and Tyler Bryant & The Shakedown.
Europeans  appear to be jonesing to see the boys:  they snapped up more than a million tickets in just one day.
---
Love, Dr. Scott James

Subscribe to Scott's Now posts via RSS

Report A Typo