Moms Everywhere Fan Themselves With Chicken Drumsticks As KFC Releases Dead Sexy Novella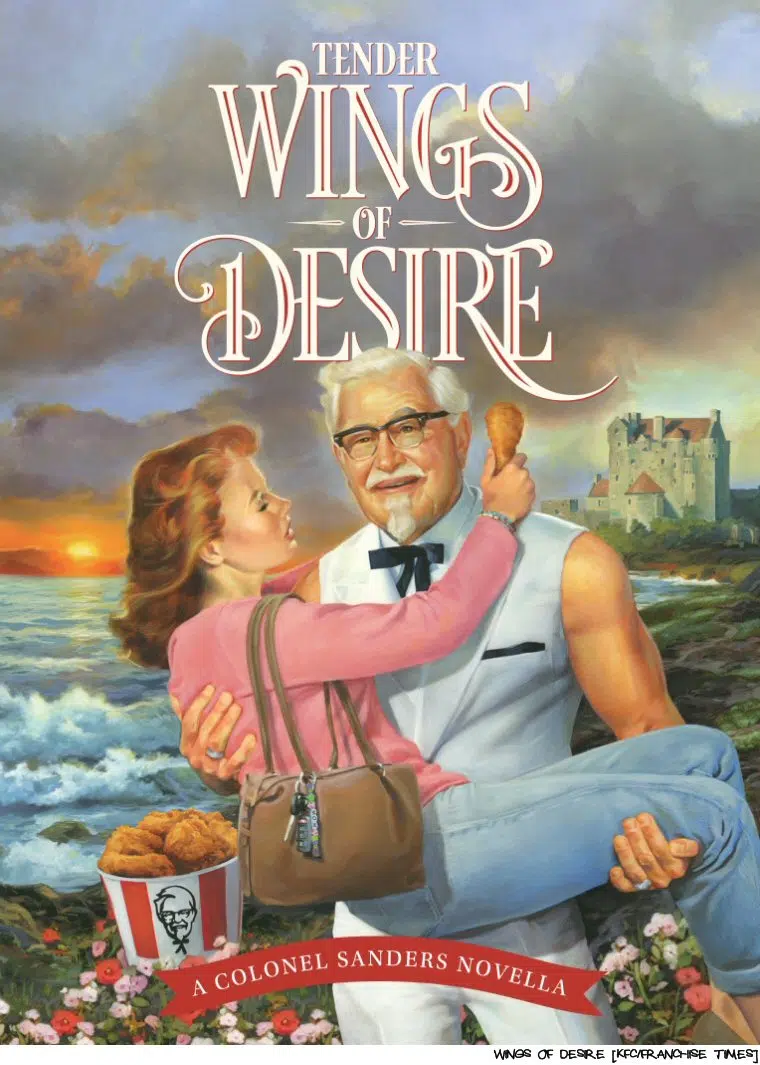 Who knew the Colonel was so buff?
As Mother's Day fast approaches, KFC scribes have released a steamy novella, in which a somewhat-more-muscular-than-we-remember Colonel Sanders — a chicken magnate turned sailor in disguise — heaps buckets of romancin' on an ostensibly non-vegetarian young lady.
Although it seems more like something we'd see leading up to April 01 rather than May 14, it's nothing if not legit.  The e-book is available as a free download from Amazon, and KFC is also giving away 100 free hard copies on Facebook; the latter are no doubt destined to show up on eBay at vertigo-inducing prices in the not too distant future.
Female protagonist Lady Madeline Parker first swoons for Colonel Harland Sanders' "woolen peacoat crusted with sea salt" (because who wouldn't?) and his "light and fair" hair.  As their relationship begins to — uh — cook, so does Madeline's independent spirit:   "No longer did she have to maintain her modesty; on the contrary, she was free to be with whomever she desired, regardless of whether they were going to end up being her husband."  That's the ticket.  You go, grrrrrl.  Oh, but wait just a Southern plantation cotton-pickin' minute — is that a wedding ring on the Colonel's finger?  Ooooo.  The plot thickens …
The promo video for the book, much like the poster, is quite hilariously and cheesily over the top.  How Fabio-esque Boy kept a straight face, I'll never know:
Now, of course you're wondering if there's any R-rated hanky panky going on here.  The answer is no.  Probably.  Tender Wings Of Desire does say that "to call their affair passionate was an understatement," but generally skirts the issue with generalizations such as "sometimes it seemed as though the two of them had been made to love each other, and they tried to do so at every given opportunity."  You'll have to use your imagination, or create your own scenario, or something something.
Come on.  You know you want to read Tender Wings Of Desire right now.  Don't be a chicken.
---
Love, Dr. Scott James

Subscribe to Scott's Contest posts via RSS

Report A Typo