Proving That Despicability Is Alive And Well, Fraudsters Attempt To Rip Off Gord Downie's Charity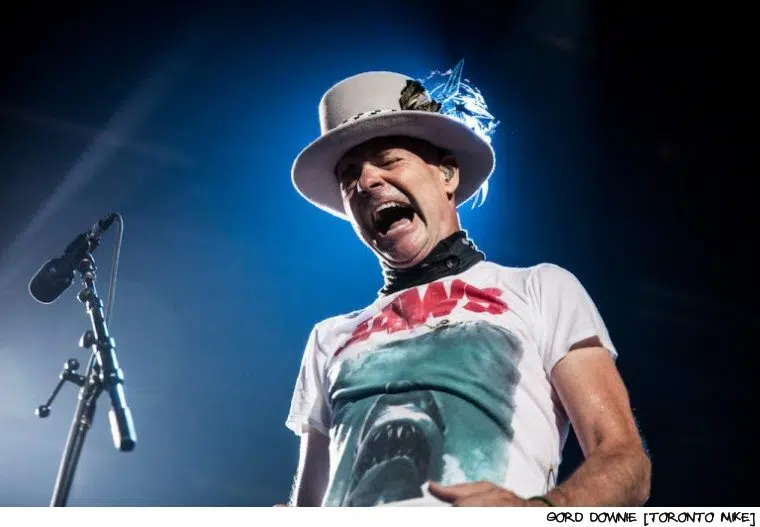 Last summer, a few dregs of humanity were trying to make bank on the Tragically Hip's unfortunate situation by flogging Man Machine Poem tour tickets at vertigo-inducing prices — and now there's another bunch of scruples-deficient ne'er do wells attempting to cash in.
Yesterday, The Hip's Rob Baker was on Twitter warning fans about people selling shirts and hoodies, falsely claiming that proceeds will go to the  Gord Downie Fund For Brain Cancer Research.  "There are a lot of THip Tshirts, hoodies … on the net, Instagram, Facebook … claiming that $10 goes to Gord Downie fund," he wrote.  "It's BS!"
The Canadian Press spotted a Facebook page titled Gord Downie Supporters which has links to a site for "The Hip Store".  The site's URL is similar to that of the official online store, but has been selling non-official merchandise with no discernible connection to the band or the charity.  The site features fake merchandise with images from Secret Path and a modified shirt with the Jaws image, which Downie wore during the tour last summer.
The questionable Gord Downie Supporters page had its plug pulled by Facebook last November for violating community standards, but came back online in January.
Baker indicated that police and legal authorities are now involved.
Hey folks, there are a lot of THip Tshirts, hoodies…on the net, Instagram, Facebook…claiming that $10 goes to Gord Downie fund. It's BS!

— Rob Baker (@tthbaker) April 25, 2017
Hey folks, there are a lot of THip Tshirts, hoodies…on the net, Instagram, Facebook…claiming that $10 goes to Gord Downie fund. It's BS!

— Rob Baker (@tthbaker) April 25, 2017
Hey folks, there are a lot of THip Tshirts, hoodies…on the net, Instagram, Facebook…claiming that $10 goes to Gord Downie fund. It's BS!

— Rob Baker (@tthbaker) April 25, 2017
---
Love, Dr. Scott James

Subscribe to Scott's Now posts via RSS

Report A Typo