The Hip Got Played Off The Stage (With Hip Music, No Less) And The Nation Is Displeased (NSFW Language)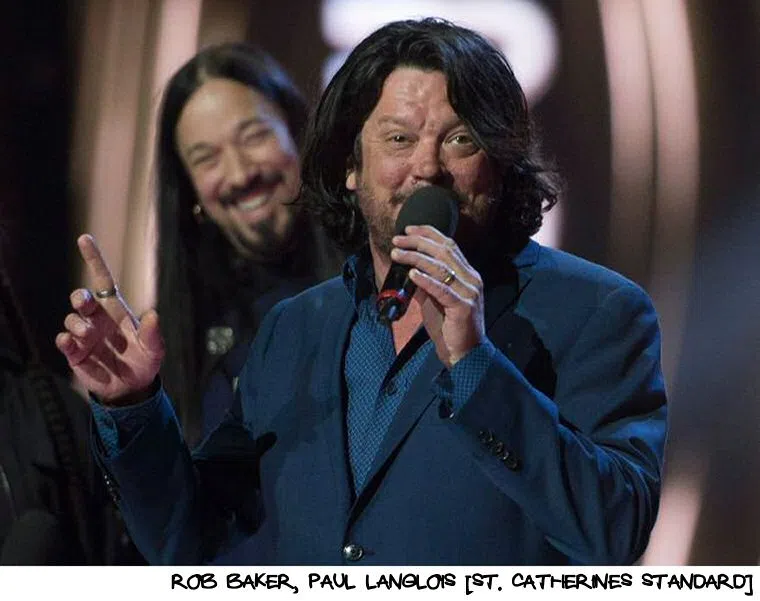 The Tragically Hip collectively, and Gord Downie individually, were well-saluted at last night's Juno Awards.  The Hip nabbed Rock Album Of The Year at the pre-hootenanny gala dinner, and then won Group Of The Year last night.  Gord Downie was named Songwriter Of The Year, and although he was not in the house for the festivities, sent his thanks via a recorded video message.
Rob Baker and Paul Langlois took to the stage to accept the Group Of The Year award, and when Paul's acceptance speech ran long, an attempt was made to play him offstage with nondescript music — at which point he delivered some delicious snark:  "Oh, you're actually going to play me out?" and went right on speaking.  At that point, the playoff music was changed to The Hip's Ahead By A Century — prompting another retort:  "Go to commercial, go ahead.  This is my arena, not yours."  He then began to acknowledge Gord Downie, at which point his mic was killed.
The Twitterverse was (mostly) not amused.
Well, that was the biggest fuck-up the #junos could have made, cuttin' the mike on the Tragically Hip right at the mention of Gord Downie.

— Benjamin Rayner (@IhateBenRayner) April 3, 2017
It's the classiest of bands that will extensively thank sound, lighting and road crew during final moment in spotlight #TragicallyHip

— Michael Barclay (@mmmbarclay) April 3, 2017
Wow. The Junos just played off the Tragically Hip WITH A TRAGICALLY HIP SONG in the middle of acknowledging Gord Downie. Smh.

— Said The Whale (@saidthewhale) April 3, 2017
Pretty sure ya let The Tragically Hip talk for 12 hours straight if that's what they wanna do. #junos

— Nikki Balch (@NikkiBOnAir) April 3, 2017
Playing the Tragically Hip off at the Junos before they finish speaking is punishable under Canadian law. #Junos2017

— Courtney Theriault (@cspotweet) April 3, 2017
Cut off Paul Langlois' mic while he's shouting out Gord Downie? Good work, #JUNOS. #classy

— Lowest Of The Low (@LowestOfTheLow) April 3, 2017
Here's the moment which prompted a whole lot of shade-throwing:
There was one final burn from the band's account this morning:
---
Love, Dr. Scott James

Subscribe to Scott's Now posts via RSS

Report A Typo