Playgrounds: Now & Then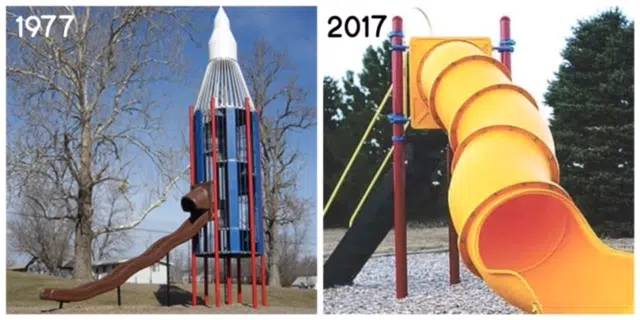 Apr 03, 2017
Ryan & Heather
Outdoor play areas are pushing the boundaries on safety, interactivity and, most importantly, fun. Nominate a play space in need of some TLC and it could win one of three $100,000 revitalizations.
Playgrounds have come a long way. Kids of the 60s, 70s and 80s can remember how a metal slide combined with a sunny July afternoon meant trouble. Playgrounds back then were nowhere near as fancy (or as safe) as they are today.
Who's bright idea was it to put a roundabout on a patch of asphalt or gravel, anyways?
Eventually, asphalt gave way to wood chips, providing a bit more comfortable experience. Wood chips have been replaced by rubber padding, making sure no kid will ever get a scrape or bruise again.
Last year, Victoria's Torquay Elementary School was one of two winners that received up to $100,000 to build new playgrounds. This year, BCAA's Play Here will award three.
We'd love to see finalists from Victoria and the Cowichan Valley. Nominations close on Thursday, April 13.