David Bowie's NYC Apartment Goes On The Market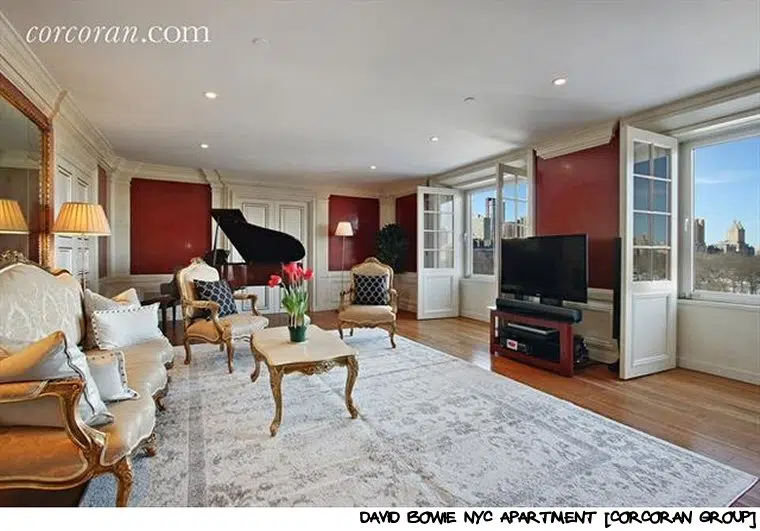 If you're looking to surround yourself with style and sophistication as you live out your golden years, you could do far worse than David Bowie's New York City apartment.  It's up for grabs, and the seller will even throw in one of the Thin White Duke's pianos.
Your offer of $US6.495 million will (probably) put you in the digs occupied by rock's most unpredictable shapeshifter from 1992 to 2002.  The three bedroom home encompasses more than 167 square meters, and offers a commanding view of Central Park.  Amenities include a limestone foyer, a walk in closet which was custom built for Bowie's wife Iman, two master bedrooms, and a master bath with a rain shower.  You also get state of the art appliances including a Miele oven and dishwasher, a Liebherr refrigerator, and a Gaggenau cooktop.  There was once a panic room into which Bowie could escape should an overly adoring (or otherwise) fan manage to invade his space, but it's been converted back to a water closet.
Bowie bought the place in 1992, ostensibly for less than $1.7 million, and sold it ten years later for $1.7 million.  The current sellers didn't buy it from him directly, but have kept at least part of its musical heritage intact by including Bowie's magnificent Yamaha piano in the deal.  Says real estate agent Bernice Leventhal of the Corcoran Group, "I would imagine it is hard to move but I think it's a really great catch for buyers."
If, on the other hand, NYC doesn't float your boat, you could always drop some pocket change on a rental of Bowie's Caribbean retreat, the Mandalay Estate on Mustique in the West Indies.  $60,000 will get you a week's worth of relaxation in the surroundings also favored by Mick Jagger, Noel Gallagher, and the Duke and Duchess of Cambridge:  a five bedroom home with two koi ponds, a swimming pool, a wet bar, and a ten person staff including a chef, butler, housekeeper and gardener.  Beware the chill, though — it's said that Bowie abandoned the island because it was so peaceful and tranquil that he couldn't get any work done.  Whatever that means.
Hey, it looks somewhat acceptable.
Shut up and take my — oh, wait.
---
Love, Dr. Scott James

Subscribe to Scott's Now posts via RSS

Report A Typo