Nothing To See Here: Just A Skyscraper Suspended From An Asteroid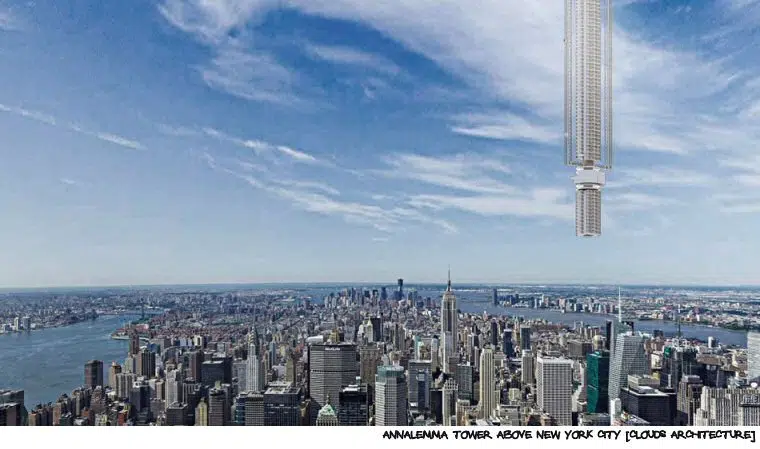 It sounds like the stuff of which April Fool's jokes are made, but we're still four days out.
An architecture outfit has revealed speculative (!) plans to put an asteroid in orbit above the Earth, attach cables to it, and suspend a skyscraper from those cables.  The building is named the Analemma Tower, and would be the tallest in th– er, above the world, according to spokesthings at Clouds Archtecture.  The name of the tower, of course, refers to the figure eight pattern the sun would make if you tracked it at the same time of day from the same place for one year.
"By placing a large asteroid into orbit over earth, a high strength cable can be lowered towards the surface of earth from which a super tall tower can be suspended," reads a Clouds media release.  "If the recent boom in residential towers proves that sales price per square foot rises with floor elevation, then Analemma Tower will command record prices, justifying its high cost of construction."
There are some gotchas.  For one thing, the building would not be stationary:  over the course of 24 hours, it would travel in a figure eight pattern which would bring it above New York City and other locations farther to the south.  The path travelled would be the same each day.
The building itself would be pretty awe-inspiring.
This whole thing is very speculative.  Natch.  And there's no guarantee that the obstacles which would have to be overcome will allow it to ever see the light of day.  First, boffins don't really know how to put an asteroid into orbit around the Earth, and a possible budget enactment might put paid to NASA's asteroid redirection mission, designed to bring an asteroid into orbit around the moon (yes, it's a thing).
The Analemma project people point to the European Space Agency's Rosetta spacecraft as an example of a successful comet landing, but don't mention that the Philae Lander ended up on a totally random part of the comet, and its communications system came over all non-functional much sooner than expected.
Other potential spanners in the works include the fact that from time to time, the building would be inside inclement weather, like thunderstorms and such.  That scenario might sound like a "hey, look at the cool lights" kind of thing, but it could raise safety concerns.  And then there's that whole question about how suspending a building from an asteroid is even remotely possible.  At least one architect thinks that it's probably verging on impossible.
But you know.  Never say never.
Love, Dr. Scott James

Subscribe to Scott's Now posts via RSS

Report A Typo