Barenaked Ladies' Persuasive New Album Coming Next Month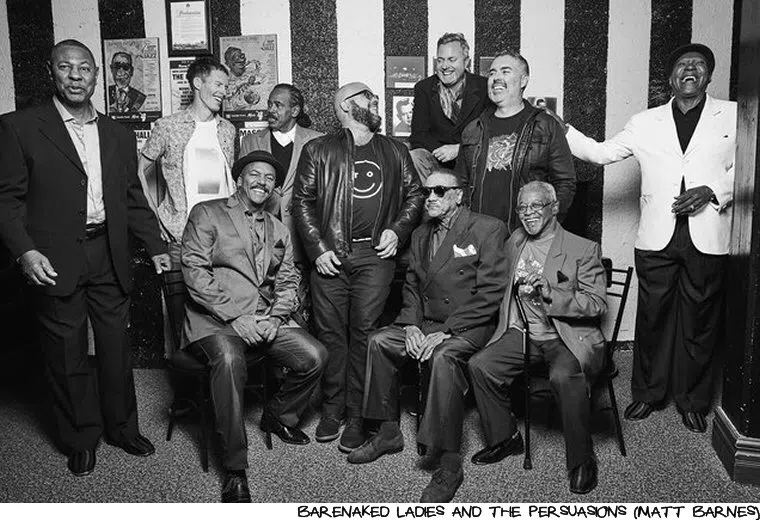 We're expecting new music from Barenaked Ladies next month, and this time, they'll have some very special guests on board.
Ladies And Gentlemen: Barenaked Ladies And The Persuasions sees the iconic Great White North quartet teamin up with the venerable Brooklyn R&B outfit on material which was recorded live off the floor last October at Toronto's Noble Street Studios.  The Ladies' Kevin Hearn met the Persuasions at a Lou Reed tribute show in New York City, and they joined BNL for a couple of tunes during one of the Last Summer On Earth tour stops in the area.
Says drummer Tyler Stewart, "It went so well, and it was so fun to be around these incredible singers.  We just sat backstage around the picnic table and sang songs and told stories, and it was just a lovely afternoon.  We decided after that show we'd like to work together again."
The Ladies And Gentlemen sessions were produced by stalwart BNL knob-twirler Gavin Brown; 14 BNL favorites comprise the collection, among them One Week, Sound Of Your Voice, The Old Apartment and Odds Are.  The Persuasions' 1971 hit Good Times is also included; the performances, along with behind the scenes footage and interviews, were shot by Sessions X, who have already released some of the material.
"For me personally, it was probably one of the top three musical experiences of my life, to just create that magic in the room, playing live and recording it," Stewart says.  "We didn't really rehearse very much; we took a day to get to know the songs and rehearsed, and then there you go, boom, we had this amazing document, this really joyful, incredibly melodic and fun recording."
When Ladies And Gentlemen is released, BNL will be doing some live shows and finishing up the next album, Fake Nudes, which is slated for a fall release.  Brown will also produce that project, which Stewart calls "a bit of a departure, in some respects, just sonically.  It's just all a little bit different … we have a whole bunch of really interesting and diverse songs, and we hope it sticks together, because we haven't necessarily found a unifying cord other than it's the four of us making the music."
Love, Dr. Scott James

Subscribe to Scott's Now posts via RSS

Report A Typo