Aerosmith: Preparing For A Permanent Vacation?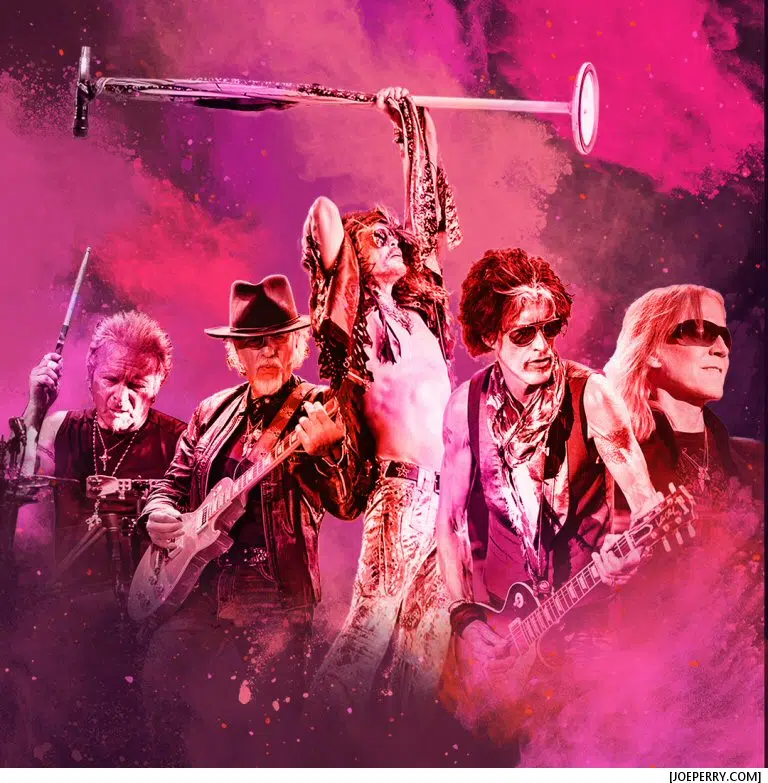 Yesterday, noted documenters of sexual escapades inside lifts Aerosmith broke the news of a "farewell" tour for next year — although they didn't go quite as far as saying this will be their swan song.  Because confusion.
A media release says the tour, which will start Wednesday May 17 in Tel Aviv, will see them playing shows across Europe, including a string of summer festivals, through Wednesday July 05 in Zurich.  The statement says they will "embark upon this, their 'farewell tour', saying 'Aero-Vederci Baby!'.  The media release was confirmed by the Aerosmith News Network:
However, the band didn't definitively say that the tour would be their last, nor did they mention any shows for North America.
Joe Perry and Steven Tyler have talked about retirement more than once lately.  "We've talked about it over the years," Perry says.  "Frankly, starting a tour that says 'the final tour' is OK, but to think there's going to be a last Aerosmith gig? That's a little tough for me to wrap my head around.  I mean, we all know our age is creeping up on us, but, man, we've tried to follow the lead of the original blues guys and the early rockers and just keep playing 'til we drop, y'know?  We all have different feelings about it.  I do have a feeling that there'll be a tour that we'll call the final tour — but when will it end?  That I can't say."
Brad Whitford seems to concur that the band might take their own sweet time about saying "see ya later":  "We keep talking about what we may call a farewell tour, but based on the Kiss approach, that could go on for three to five years.  We are seriously looking at that, just based on our age and everything."   He isn't quite sure how it will feel to put paid to Aerosmith after 46 years and 15 albums.  "It's hard to know," he says.  "It'll probably be a bit of relief, one way or another.  It's a struggle to get things done with that band.  There's so much time wasted, and it can take the wind out of your sails sometimes.  For me it's about the music, and we seem to have lost quite a bit of that energy in the Aerosmith camp.  Everything turns out to be about something else, and it has nothing to do with the music.  That gets old."
Meanwhile, Joe Perry says that whatever the band gets up to, he'd like it to be all-encompassing.  "I would like to do a tour where we really play every place that we've ever played, and maybe some places we never played.  And just on that premise, go out and have it be like we did it in the '80s, when we'd be out for a long time and really gain a lot of momentum."
Before the recently-wrapped South American tour, the band members' side projects were front and center.  Steven Tyler released a country solo album, We're All Somebody From Somewhere, and toured in support of it — a move which saw him taking a lot of shade from his pearl-clutching bandmates.  Joe Perry also released an album and toured with Alice Cooper, Johnny Depp and others as a member of The Hollywood Vampires, while Brad Whitford released an album together with sometimes Ted Nugent collaborator Derek St. Holmes.   Tom Hamilton did a few tribute shows with Thin Lizzy, and Joey Kramer launched a coffee shop in Boston.
There are no confirmed plans so far for another Aerosmith album; the last project was 2012's Music From Another Dimension.  There are some hints floating around, however.  Says Perry, "I'm always writing.  There's always songs around. Doing an album is a whole other issue.  I'd like to do it.  I think we've still got things to say on [record].  Maybe once we start doing some shows again we'll get inspired and get everyone on the page to do that.  We'll see."
---
Love, Dr. Scott James

Subscribe to Scott's Now posts via RSS

Report A Typo