Police in Spain are hunting for a vandal who used a marker pen to turn a marble sculpture in a famous cathedral into KISS' 'Catman'.
A 12th century statue at the Santiago de Compostela cathedral in Galicia was defaced in blue marker pen, and the band's name was scrawled at the bottom of the statue.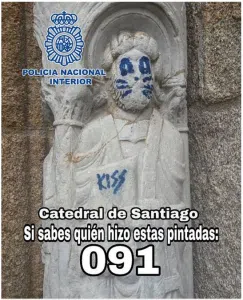 According to the DailyMail, authorities consider the vandalism a 'cultural atrocity' and warned the vandal could be fined up to £133,000 if caught. The damaged sculpture, is reportedly the only Romanesque sculpture left on the cathedral facade.
Kiss headlined the Resurrection Fest in the nearby town of Viveiro in Lugo last month.